The Most Frequently Asked Questions about F1 Visas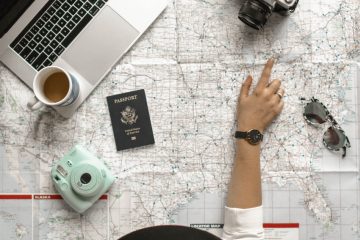 When you're considering studying in another country, there are so many things you have to do to get ready. Some of those things are exciting — matching with your new roommate, learning about your new city — and some of things are…not. One of the less exciting, but absolutely mandatory parts of living in another country is making sure you understand the visa requirements. A visa provides authorization for you to visit, study, or work in a foreign country for a designated period of time.
For international students coming to the US, you're going to need to get familiar with the F1 visa. To help with that, we've pulled together a list of the most frequently asked questions about the F1 visa. These FAQs are here to serve as a starting point, but for more detailed information, you should always speak to an immigration specialist, whether through your university or another channel for the best advice pertaining to your situation.
What is an F1 visa?
An F1 visa is the visa you apply for if you live outside the US, but want to study in the US. You'll need the F1 visa if you want to study at a US school – whether that's high school, college, English-learning program or any other type of academic institution.
Is there a fee for the F1 visa? How much is the F1 visa fee?
There is a fee called a SEVIS fee for the F1 visa and it costs $350.
What do I have to do to keep my F1 visa?
To maintain an F1 visa status, you have to meet the minimum requirement of classes for full-time students.
Can I work with an F1 visa?
You can work with an F1 visa, but there are restrictions. You can work on-campus. When school is in session, you can work for a maximum of 20 hours per week, but between semesters (or when school is not in session) you can work more than 20 hours per week.
Do I have to pay taxes with an F1 visa?
You need to pay state and federal income tax, but you do not have to pay Social Security of Medicare.
How long can I stay in the US with an F1 visa?
As long as you are enrolled in school, you can stay in the US with your F1 visa. So the length of your program is generally the length you can stay. However, once your program is completed (or you graduate), you can stay in the US for another 60 days before needing to leave.
Is there an age limit for the F1 visa?
There's no age limit for the F1 visa. As long as you are accepted to a school in the US, you are eligible.
Is multiple entry to the US allowed with an F1 visa?
You can enter the country multiple times with an F1 visa, unless otherwise noted. Your visa should indicate whether multiple entry is allowed, and you must have your school sign your visa before you leave the country.
Can I apply for an H1B visa?
You can apply for an H1B visa as an F1 visa holder as long as you have an employer to sponsor you.
Can I go to Canada with an F1 visa?
Yes, you can visit; however, you must make sure you have permission for multiple entry and you must check whether or not you need a visa from the Canadian government depending on your home country.
What happens if my F1 visa expires?
If your F1 visa expires, you can still stay in the US as long as you maintain your student status, but you will need a valid visa if you leave the US and want to return.
Is my F1 visa still valid after graduation?
Your F1 visa is valid after graduation for 60 days, or after you complete the entirety of your program.
Please note that for any and all questions related to immigration, you should consult an immigration specialist. These FAQs are intended as a starting point, and should not be used for complete legal advice.