How to Prepare for Your First Week of Classes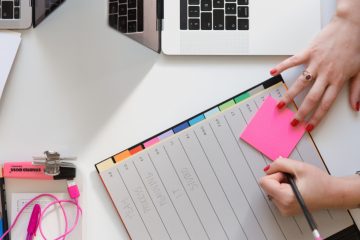 It's finally here – your first week of classes! Maybe you're starting university for the first time this semester, or maybe you're returning for another year. Either way, we've compiled some tips to help you prepare for class so you can start the year off successfully.
Read the syllabus ahead of time
You know that thing your professor posts on Blackboard or emails to you a week before class with all of your required books, class schedule, assignments, and due dates? That's your syllabus – and yes, you should be reading it before the first day of class. We know you're probably saying "But isn't my professor going to go over it in class?" Some of them will; some of them won't. Regardless of whether the professor discusses what's on the syllabus, you can have a sense of what's ahead for the semester by reading it thoroughly. Make a note of any questions you have about due dates, assignments, required reading, and anything else the professor included on the syllabus so you can ask about them on the first day of class.
Map out where your classes are on campus
Whether you're a new or returning student, it's important to know exactly where your classes are on campus. It's helpful to know just how much time it will take you from your dorm to get to class – or even to and from other classes or activities you have throughout the day. This ensures that you're not rushing around campus your first week back trying to get to class on time because you are unsure where a class is. If you need help locating where your classes are, consider checking the class roster (if available to you) and buddy up with a classmate to walk to class. Determining where your class buildings and rooms are ahead of time will remove some of the stress during your first week.
Charge your laptop or organize your class supplies
Before classes start, make sure you know exactly how you're going to take notes and organize all of your materials. Some students choose to do this digitally, with physical notebooks and folders, or both. The benefit of getting your supplies in order means that you can show up to class knowing where to start taking notes and storing your information. Additionally, it means that you're not devising an organization method a few weeks into the semester, ensuring that you don't lose any notes from the first days or weeks of classes.
Get a good night's sleep
It might be tempting to go out or stay up late the night before your first classes because you don't have any homework yet, but just remember, these first weeks can help set the tone for the whole year. Getting a good night's sleep before your first week ensures that you can be alert and make a good impression on your professors – and your classmates. You'll be able to better plan for the weeks ahead, and better process the seemingly overwhelming amount of new information you'll be taking in.