American Football for Beginners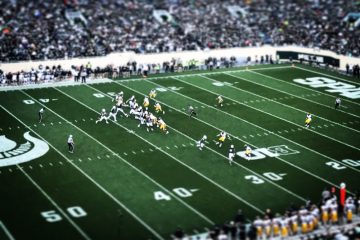 They say that America's favorite pastime is baseball, but if you've ever observed a Sunday, Monday, or Thursday night at a bar or pub, you've likely noticed that everyone is there to cheer on their football team. Football is an extremely popular American sport — though it's not to be confused with the "football" that the rest of the world watches. American football is a lot different than its global counterpart, which Americans refer to as "soccer." American football is a sport that both fans and non-fans alike gather together to watch, not just because of its entertainment value, but because of its cultural importance. That's why we've compiled a handy guide to understanding American football for any beginner out there who wants to understand more about the sport (and the cultural phenomenon).
The Rules of the Sport
In football, two teams play opposite each other on a 100-yard field (that's 91.44 meters) with the sole purpose being to score the most points in a 60-minute game, consisting of four quarters (15 minutes each quarter). Each team is comprised of 53 players, with 11 players on the field at a time, depending on if they are playing offense or defense against the other team.
Each team tries to move the football into the opponent's end zone, which is located at the end of the field, to score a touchdown. A touchdown is worth six points, but you have the opportunity to score an additional one point with a field goal or an additional two points with an additional play.
Teams move the ball down the field through a series of plays. The offense must move the ball 10 yards down the field, every four plays (called downs). To get a first down, the team must successfully move the football 10 yards. Teams do this by either passing or handing off the ball to their teammate, while the opposing team tries to block the pass or stop the running from making his way down the field.
When It's Played
32 teams play in the National Football League, or NFL. The NFL football season begins in September and lasts until the end of December or early January, with the final game of the season being the Super Bowl, which occurs sometime in January or even early February.
Games take place on Sundays, Mondays and Thursdays throughout the season.
Cultural Impact
American football is more than just a sport – it's a bonafide cultural phenomenon in the U.S. Many people are fans of the sport due to their love of the game itself, but even non-fans watch football. This is because of the culture surrounding football games. For those people who watch the games in person, it can be a day-long event that starts with tailgating – a term which refers to people gathering around in the parking lot of the football stadium, grilling, listening to music, and hanging out by their cars until the game begins. It's something that everyone can enjoy, even if they're not necessarily a big sports fan. Similarly, for those people watching at home, they might invite friends over, and plan snacks, drinks, and food around the game. It's a reason to gather together and support a team – or engage in a little rivalry. As a result, watching football sometimes transcends the sport itself and more so prompts the social activity or feeling of camaraderie. Even if you're not sure you're interested in the sport itself, we highly recommend attending a game or game-day social gathering to get a sense of what it's like to support one of America's favorite sports.